Photo: Marco Vidal
Wanted for questioning, Marco Vidal and attorney Godfrey Smith visit Belmopan Police Station and leave without restraint.
BELMOPAN, Thurs. Jan. 19, 2023
Throughout this week, Commissioner of Police, Chester Williams had confirmed with the local media that one of the three men who were captured on security surveillance footage entering a store in Belmopan is former Assistant Commissioner of Police, Marco Vidal, who is the uncle of accused Elmer Nah, and that he, Vidal, was being sought for questioning.
Earlier this week, footage from surveillance cameras had made its rounds on social media, and in the video Vidal and two other men are seen exiting a vehicle and entering a store which is reportedly in the vicinity of the home of Elmer Nah.
Reports suggested that the trio entered the store to determine whether the store owners had security camera footage for the night of December 31, 2022.
In a press briefing, Commissioner Williams had emphasized that, likely due to intimidation from the visit, or the airing of the footage on social media, the proprietors were no longer cooperating with the police.
"When the video was shared on social media that send them into fear and completely shut down. So at this time, we cannot even ascertain what the discussion was between them and Vidal," he said.
Police had interviewed the other two persons and had made attempts in trying to locate Vidal, but up to yesterday their efforts had been futile.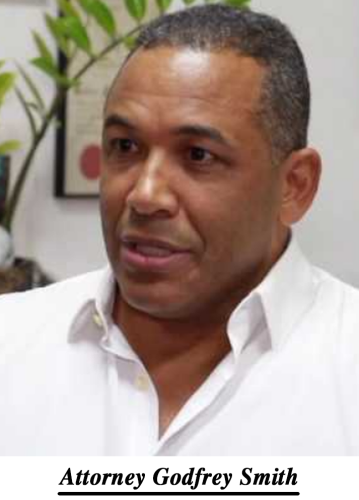 Well, all that changed today. In an audio clipping shared with the local media today, attorney Godfrey Smith shared that he had been approached by Vidal earlier in the week but said he had just arrived in country and would not be available to accompany him to the police station until today, Thursday.
This morning, Vidal, accompanied by his attorney Godfrey Smith, presented himself at the Belmopan Police Station; and after Smith had eloquently addressed the situation concerning his client, the police officials were satisfied that Vidal posed no threat to "perverting the course of justice", and his client was thus free to walk out of the station.
Attorney Godfrey Smith, who also happens to have the one Lord Michael Ashcroft as a friend and client, told reporters he was able to show that all Vidal did was exercise his right as a citizen to calmly inquire of some information about the video and made no threats or acted in any way to suggest any bad motive. However, 7News' Jules Vasquez noted that, under the current circumstances, the mere fact of him visiting the establishment and inquiring about the video was itself a matter to be considered as intimidation.
Former ACP Marco Vidal officially retired from the department in May of 2022, some five months after being suspended for negligence and administrative failures during his time as head of the Police Department's Commander Operations Strike Team (COST). According to an Amandala story titled "Home Affairs 'retires' Marco Vidal," of May 11, 2022, "The former Commander of Operations and head of COST was suspended in December of last year following the arrest of four of his subordinates in connection with the landing of a drug plane near Bladen Village in the Toledo District on November 4, 2021." Following an internal investigation, Commissioner of Police Chester Williams had told local media that "the only thing uncovered during the investigation of Vidal was 'administrative failures' on his part."
In a subsequent court case involving the four subordinates implicated in the landing of the drug plane, their cases were all thrown out. One of the four acquitted of all charges was one Elmer Nah, a nephew of Marco Vidal. Nah is currently on remand for the murders of David and Jon Ramnarace. He is also expected to be charged for the murder of Vivian Ramnarace.