The article referenced, "We Need an Elected Senate", by Paul Rodriguez, appeared in last Friday's Amandala.
Mr. Rodriguez's article followed the stream established by the VIP Direction, that was published in 2006. His article was clearly written in an effort to express how far away Belize has drifted from the ideals of a fair, safe and progressive Belize. I share Mr. Rodriguez's general sentiments especially as I recall VIP's 2006 commitment, to give Belize an elected, mixed member, proportional representation Senate, with half the members elected at mid-term.
There are however, some issues in the article that I must point out, just so that we who love our country may move towards a fair society and avoid inadvertently prolonging the chokehold of political partisanship in our jewel.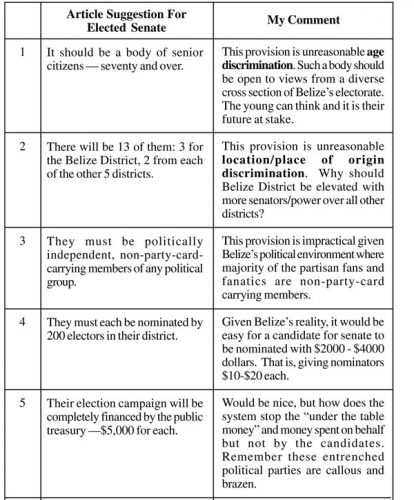 The VIP Direction states 15 critical political reforms necessary to relieve Belize of the continuing partisan chokehold. While the recommendation to have an elected senate is important, it is not the most critical. To spring Belize from the grips of political partisan corruption requires a multi-prong approach. The VIP has thoughtfully put together a Direction as far back at 2006 that, in my opinion, short of a benevolent despot miraculously taking power to reform Belize towards good governance, that VIP direction offers the soundest advice to such end.
Paul Morgan
General Secretary
Vision Inspired by the People