BELIZE CITY, Mon. Sept. 7, 2020– A month of virtual national celebrations in Belize kicked off last Tuesday, September 1, 2020 with a virtual rendition of the annual flag- raising ceremony hosted by the Belize City Council.
As is customary, Mayor Bernard Wagner and Councilors Allan Pollard and Aisha Gentle convened at the city's flag monument, accompanied by the Scout Association of Belize, to jumpstart the month that is scheduled to be filled with activities to commemorate the Battle of St. George's Caye and Independence Day in new, socially distanced ways.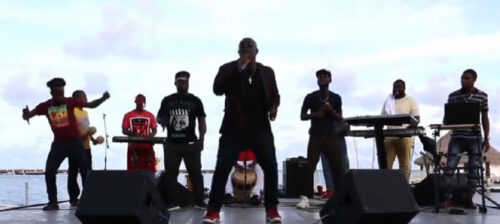 The Belize National Celebrations Commission followed suit on Sunday September 6, 2020, with their own virtual launch for September's festivities, which they hosted live from the Stann Creek District.
The launch began with a formal ceremony that began at 3:00 p.m. and featured presentations from Mayor Francis Humphreys of Dangriga Town as well as UDP Leader-Elect, Hon. Patrick Faber, who chairs the September Celebrations Commission.
While Hon. Faber described the times as "unprecedented and dramatic," he still shared a message of hope for the month of Belize's independence: "In the midst of these chaotic times, amidst the uncertainty triggered by the insecurities of COVID-19 and the hurricane season, we must go forward, and today, in a tradition that has been for over a hundred years, we launch our September Celebrations. September has always provided us with a time to reflect on our history, to learn from our circumstances, whether dire or joyous, and eventually drive us to find and renew steely resolve within all Belizeans to overcome challenging times," he said.
Following these formalities, viewers were able to enjoy a virtual live concert starring the likes of Belizean entertainers such as Punta sensation Supa G alongside the Charikanari drummers and dancers, Bredda David and Tribal Vibes alongside the Sambai drummers and dancers, Sweet Pain Band, and the Seine Bight Lirahuyu SenBedi drummers.
The virtual launch was the first of many scheduled festivities, which will include the September 9 virtual bram, the official St. George's Caye Day ceremony on September 10, the Decolonizing History event on September 14, the Ministry of Foreign Affairs' Diplomatic Week from September 15 to 18, the Department of Youth Services' Virtual Art Exhibit on September 16 and 17, the Belize Song Showcase on September 17 (tentatively) and National Colors Day, scheduled for September 18.
The September Celebrations Commission had announced prior to September that the events would be downsized and, in some cases, canceled due to the effects of COVID-19.
At a press conference last week, President of NICH, Sapna Budhrani, described the challenges that her team has had to face in planning this year's events, and the measures they are taking to still provide Belizeans with something to appreciate throughout the month.
She remarked, "It is difficult for all of us … let us learn how to use Zoom, let us learn how to use technology to showcase our talent.
"The other events, like the night bram that happens throughout the country, not every district will be able to have a night bram."
The theme for this year's celebrations is "Overcoming Adversity, Creating Opportunity. Belizeans: Unite For Prosperity".