BELIZE CITY, Mon. Jan. 21, 2019– They ranked 7th of 8 teams, with the worst Goal Difference (-15) at the end of regular competition in the last Premier League of Belize (PLB) 2018-2019 Opening Season; but with the completion of Week 2 in this PLB 2018-2019 Closing Season, Wagiya Sporting Club is in the top 4, and is the only team yet to concede a single goal so far this season. (See standings below.)  They held defending champion Bandits Sport scoreless in the season opener last week; and yesterday they dropped BDF FC, 2-nil, at the Carl Ramos Stadium in Dangriga. The other three top-4 teams – Verdes FC, Bandits Sport and San Pedro Pirates FC were all in last season's playoffs. Time will tell if the young Wagiya squad can keep up the pace with the "big boys."
In the two Saturday night Week 2 matches, the other two southern teams fell by identical 3-1 scores. At the M.A. Stadium in Independence, Bandits striker Trimayne "Peppa" Harris burned the home team, Assassins Altitude FC with 3 goals (16', 22' and 89'), the only Altitude FC reply coming from midfielder Rene Leslie (49'). Meanwhile, at Ambergris Stadium, it was San Pedro Pirates FC with the 3-1 victory over visiting Freedom Fighters FC from Punta Gorda. The Pirates got a goal each from Mailson Moura (19'), Devin Burgess (47') and Luis Valdez (84'); while Enfield Nunez (60') scored the lone goal for Freedom Fighters.
On Sunday afternoon at the Carl Ramos Stadium, home standing Wagiya Sporting Club proved that their season opening draw against the defending champ was no fluke, as they dropped BDF FC, 2-nil, with a goal each from Sean Caliz (43') and Byron Chavez (74'). Meanwhile, sub-champs Verdes FC took over first place in the standings with their second victory of the young season. Verdes visited the Isidoro Beaton Stadium, and came away with a 2-1 win over Police United FC. Krisean Lopez (30') put Verdes in front; Carlton "Fubu" Thomas (65') equalized for Police; and Jarret Davis (65') got the winner for the Green Machine.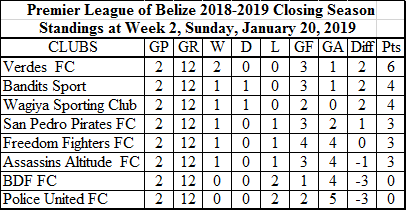 Upcoming Week 3 games:
Saturday, January 26
7:30 p.m. – San Pedro Pirates FC vs Police United FC – Ambergris Stadium
8:00 p.m. – Bandits Sport vs BDF FC – Isidoro Beaton Stadium
Sunday, January 27
4:00 p.m. – Verdes FC vs Freedom Fighters FC – Norman Broaster Stadium
4:00 p.m. – Wagiya Sporting Club vs Assassins Altitude FC – Carl Ramos Stadium
Week 4 schedule:
Saturday, February 2
7:30 p.m. – Assassins Altitude FC vs San Pedro Pirates FC – M.A. Stadium
Sunday, February 3
4:00 p.m. – Freedom Fighters FC vs Bandits Sport – Victor Sanchez Union Field
4:00 p.m. – BDF FC vs Verdes FC – MCC Grounds
4:00 p.m. – Police United FC vs Wagiya Sporting Club – Isidoro Beaton Stadium