BELIZE CITY, Thurs. Mar. 16, 2023
UBAD Educational Foundation (UEF) chairperson, Sista Ya Ya Marin Coleman proudly informed us yesterday that the work she has been doing with UEF in striving for the enlightenment and upliftment of Belizeans of Afrikan ancestry at home and in the diaspora, and in forging linkages with our Afrikan kinfolks around the world as well as in the motherland has not gone unnoticed.
An elated Sista Ya Ya shared with Amandala: "The work that I have been doing on behalf of our Afrikan ancestors, Afrikan/Belizeans at home and abroad for UEF about Afrikan Reparations is being recognized globally. The National Coalition of Blacks for Reparations in America (N'COBRA) has invited me this Saturday March 18, 2023 to present at their International Affairs Commission Reparations Workshop. I will be sharing the work UEF has been doing to raise awareness about Afrikan Reparations, and how UEF has engaged the Government of Belize."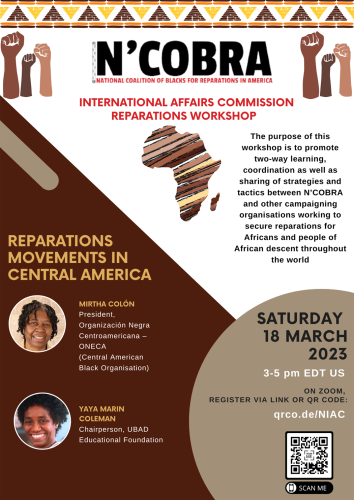 According to Ya Ya, as UEF Chairperson, she is one of two speakers who were invited to address the N/COBRA's International Affairs Commission Reparations Workshop on Saturday, March 18, 2023.
To register to attend the Zoom event, the address is: qrco.de/NIAC