General
— 26 August 2014
— by Adele Ramos
BELIZE CITY—At a recent meeting held in Belize, top-ranking officials of both Belize and Uruguay discussed the bids by candidates from their respective countries, to seek the two leading administrative posts in the Organization of American States (OAS).
H.E. Ambassador Gonzalo Koncke, Uruguay's Special Envoy, Chief Executive in the Ministry of Foreign Affairs and Permanent Representative to the United Nations, was in Belize earlier this month on a mission to discuss bilateral relations between the two countries.
A joint press statement from the parties said that Ambassador Koncke confirmed the Government of Uruguay's support for Belize's candidate, Ambassador Nestor Mendez, for the post of Assistant Secretary General of the OAS.
Meanwhile, Guatemala's former vice president, Eduado Stein Barillas, is seeking the post of Secretary General and Guyana's Ambassador to Mexico, H.E. Bayney Karran, is seeking the post of Assistant Secretary General.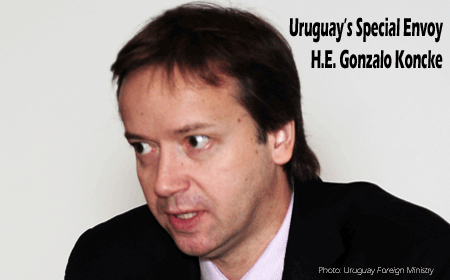 Belize has confirmed its decision to endorse the bid by Uruguayan Minister of Foreign Affairs, H.E. Dr. Luis Almagro, for the post of Secretary General – a decision made before Guatemala announced its official endorsement of Stein's candidacy.
"The agreement is based on the mutual recognition of the competence of their respective candidates. The Governments of Belize and Uruguay recognize the need to renew the programmatic mandate of the OAS and their desire to positively contribute to the strategic review process to the extent that they can on the same issues in respect of the Organization, its challenges at the hemispheric level, its functions and its Strengthening," the joint statement said.
The current Secretary General of the OAS, José Miguel Insulza of Chile, and his deputy, Ambassador Albert R. Ramdin of Suriname, complete their two-term tenure in 2015.
Related Articles
Share
About Author
(0) Readers Comments