Sports
— 18 November 2017
— by Dean W. Flowers -Vice-Chairman, BFA
BELMOPAN, Mon. Nov.13, 2017–Once again, I am pleased to provide to fans the results of the 2017/2018 Belmopan Football Association (BFA) Amateur First Division 2017-2018 Opening Season Football Tournament. The current tournament features 18 teams, divided in two groups of 9. The tournament kicked off on October 13, and has now completed its fifth week of play. Following are the results of the past weekend's games at the Isidoro Beaton Stadium, and the schedule for the upcoming weekend along with the tournament standings.
In game 1 on Friday, November 10, (Group A) Valley United clipped Las Flores FC, 1-nil, on a goal by Francisco Monterroza (86'). And in game 2, (Group B) it was Police FC, 2-0, over Valencia YWAM Boyz, with a goal each from Charleston Gardiner (27') and Marlon Jones (89').
On Sunday, November 23, game 1 (Group A) saw Napoles FC with the 2-1 win over Maya Mopan Rangers. Daniel Naj (43') and Yoni Gonzalez (67') shook the net for Napoles, while Kevin Mendez (50') scored for the Rangers. And in game 2, (Group B) Wisman Guevarra struck twice (2' & 25') to give St. Margaret FC the 2-1 victory over Duck Run Warriors whose only goal was by Jose Garrido (22').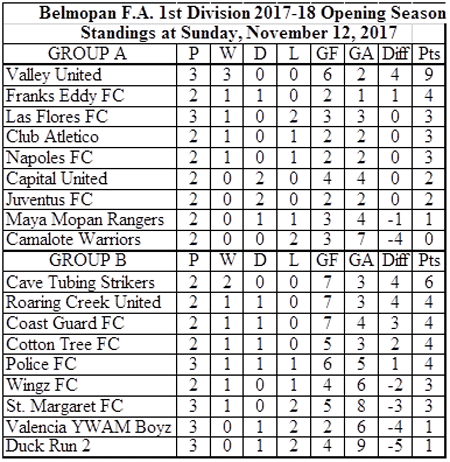 Upcoming Week 6 games at the Isidoro Beaton Stadium:
Friday, November 17
6:45 p.m. – Franks Eddy FC vs Camalote Warriors
8:45 p.m. – Cotton Tree FC vs Roaring Creek United
Saturday, November 18
6:00 p.m. – Capital United vs Club Atletico
8:00 p.m. – Las Flores FC vs Napoles FC
Sunday, November 19
4:00 p.m. – Valencia YWAM Boyz vs St. Margaret FC
6:00 p.m. – Cave Tubing Strikers vs Wingz FC
Related Articles
Share
About Author
(0) Readers Comments