BELIZE CITY—A massive crowd of about 1,000 people participated in a protest march and candlelight vigil, in an outcry against the vicious murder of Wesley College honor student Chryslin Gladden, 16, who was found dead on the ground near a tomb in the Lord Ridge Cemetery at about 5:00 Friday morning. Her throat had been cut and she had been stabbed multiple times in the chest and back.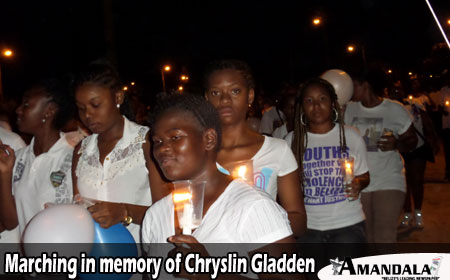 Some participants also marched in memory of their loved ones who lost their lives as a result of the senseless violence unleashed in the city by criminals.
At about 5:50 yesterday evening, the multitude converged onto the Yabra Green in front of the Wesley College campus on Yabra Road, from where they marched onto Fairweather Street, then down Cemetery Road, and into Albert Street. They then took a right into Yabra Road and concluded the march in front of Wesley College, where balloons were released into the air.
During the march, the crowd was chanting, "We want peace now, and no more violence in the city". The crowd wore white to symbolize peace, and a call was made to the youths to take a stand against violence, and to say with one voice that enough was enough, and to make a change in the country.
The event was organized by five of Chryslin's friends and classmates – Shanice Humes, Ieshea Babb, Shanice Gonzalez, who is the administrator of the event, Andrew Munnings, who is the public relations officer of the group, and Charles Sutherland.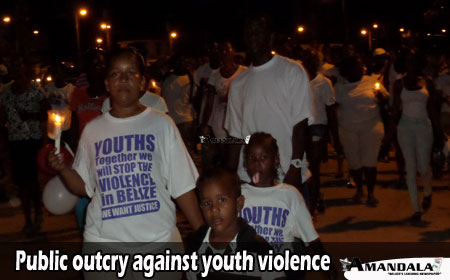 Munnings said that the youths had converged to show that they have gotten enough of the crime and violence in the city, and had turned out in massive numbers to send the message. The organizers had not expected so many people to turn out, said Munnings, and the massive show of support meant that the move to make change would start that very night, he pledged.
He thanked the business community and participants in the event for their support, then said Chryslin will live on, and that they love her.
Shanice Humes told Amandala that there will be no wake for Chryslin. On Friday evening they will launch another vigil, but this time, they will march down to Central American Boulevard into Cemetery Road and up into Albert Street, and conclude on the Yabra Green. She is expecting another massive crowd.