BELIZE CITY, Mon. Jan. 23, 2017–They were heavy favorites, despite a 3-3 draw with Tut Bay FC in game 1 of the Finals series last week Saturday at the MCC; and yesterday at the same venue in the decisive Finals Game 2, Coast Guard FC proved they were the best team in the tournament, defeating Tut Bay, 4-1, and claiming the CYDP Peace Cup championship.
In the preliminary third-place game, Survivor FC emerged 3-2 winners in overtime, after they had ended up tied 2-2 with Kelly Street FC in regulation. Survivor's Tarique "Hamma" Ciego netted all 3 goals (6', 97' & 106') for Survivors, while Kareem Myers (8') and Christopher Pipersburgh (95') scored for Kelly Street.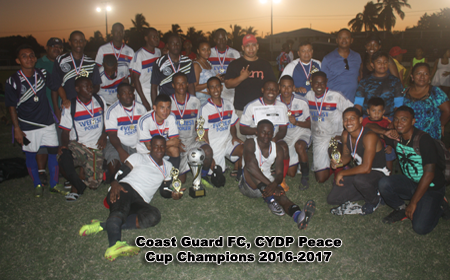 The MCC had as big a crowd as it has seen in a long time, and the CYDP Peace Cup championship game started with an eerie similarity to the 3-3 tie the previous weekend. Adgar Adderly (11') and Steven Martinez (20') had given Coast Guard a 2-nil lead, when Tut Bay's Brian Martinez (27' PK) converted a penalty to cut the lead in half. Would Tut Bay make a dramatic comeback like they had done the week before? The thought was short-lived, as Coast Guard added a goal from Eredito Valencio (41') and another from Steven Martinez (85'), to make it a comfortable 4-1 lead; and that's the way ended. 4-1, Coast Guard FC over Tut Bay FC, for the CYDP Peace Cup championship.
Following the championship game, trophies and cash prizes were given to the 3rd place team – Survivor FC; 2nd place – Tut Bay FC; and champion – Coast Guard FC.
Individual awardees were:
Best Goalkeeper – Jaheem McKenzie (Coast Guard)
Best Defender – Michael Perrera (Coast Guard)
Best Midfield – Allen Armstrong (Coast Guard)
Best Forward – Steven "Breds" Baizar (Kelly Street)
MVP – Steven Martinez (Coast Guard)
Most Goals – Brian Martinez (Tut Bay)
Most Disciplined Player – Brian Martinez (Tut Bay)
Best Coach – Winder Ellington (Coast Guard)
Rookie of the Year – Tyreek Muschamp (Kelly Street)
Related Articles
Share
About Author
(0) Readers Comments