The brave woman fought a knife-wielding robber who had wrenched open her door, while his accomplice waited outside
A brave Crooked Tree woman fought off a pair of masked robbers, one of whom went into her home armed with a butcher knife, and attempted to rob her and her mother during a brazen home invasion sometime after 7:00 last night.
The robber, whose accomplice stood watch outside the house, ran out of the house empty-handed after the woman held on to the arm in which he held the knife, and courageously wrestled with him until in the end, she managed to escape by running out of the house.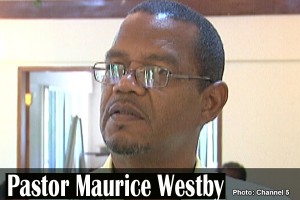 The dramatic incident occurred at the home of Pastor Maurice Westby and his family in Crooked Tree. One of two assailants pried open the door of the verandah, barged into the house, pushed down his mother-in-law, who was seated in the hall at the time, and ordered Westby's wife, Betty Westby, who had been in the kitchen, and her elderly mother to lie down on the floor and cover their faces. Even after Mrs. Westby's life was threatened, however, she refused the robber's demands, and instead grabbed his right hand in which he was holding the knife, with both her hands and refused to let go.
She relived the hellish predicament today, explaining that she was able to recognize her attacker as soon as he was unmasked during the struggle.
Mrs. Westby said that at that point, she looked right into his face, and told him, "How dare you? Take what you want and get out of my house!"
In an interview with the media today, Pastor Westby recounted that he was at a prayer meeting at Ladyville Baptist Church when he received a distress call from his wife.
He said, "I got a call from my wife at about 7:10 p.m. when I was preparing for the prayer meeting, and she whispered to me that they were being held up at the house in Crooked Tree. I didn't wait for her to tell me anymore; I disconnected her call and I called my brother who lives nearby, then I called the Crooked Tree police. I told my brother to go to the house and just fire a warning shot from a distance."
Westby told the media that his mother-in-law had stood up and saw someone trying to force open the door, but by that time, the robber had already wrenched open the door and stormed in.
Mrs. Westby said that her teenage son, who was in the bathroom taking a shower, came out shortly after because of the noise, and when he saw what was happening, he ran out of the house.
At that point, the robber, who had become distracted when he saw the young man run out of the house, shouted to his accomplice to "grab the young man," which is when Mrs. Westby saw an opportunity to flee.
She hid her mother behind a curtain, grabbed her husband's shotgun and some cartridges, and went through the backdoor, where she proceeded to load the weapon.
"I got on my belly behind a little tree and I called my husband and told him that two men have us held up, and he immediately shut off his phone and called the police. At that time, I tried to listen to hear what was happening, and I saw them [the invaders] standing and talking just a little ways from me outside the house, so that was my break to get up and run back into the house.
"I immediately locked all the doors and began to scream for my son, because at that point, I didn't know where he was," she recounted.
Later, her son told her that when he noticed that the family was being robbed, he went to alert their neighbors, who did not live too far from them, after which the village chairman and police officers (who had been called by her husband after he had called his brother, who had a licensed gun, for help) conducted a search for the suspects, who by that time had escaped.
Pastor Westby believes that one of the individuals may have been a former employee of his brother.
The pastor also explained that he was thankful that luckily, no one was hurt during the ordeal, although we have received information that one of the men may have made off with the pastor's licensed .22 rifle.
Police say they are currently seeking a man, who is known to them, for questioning in regards to this latest home invasion.
Just over four days ago, early last Saturday morning, a deadly home invasion took place on Mopan Street in Belize City, in which a tacos vendor, Carlos Mayorga, 52, was shot dead and three of his helpers, including his daughter, were also shot. One of the victims, a Honduran, later died of her injuries, and Mayorga's daughter and the other female helper are both in the Karl Heusner Memorial Hospital in a serious condition.
Related Articles
Share
About Author
(0) Readers Comments