BELIZE CITY–Police have confirmed that they have launched an investigation through their Professional Standards Branch into the shooting of Belize City resident Kent "Gigante" Skeet, 50, former football player and a resident of 33 Bagdad Street.
Skeet was shot once in the left leg on Saturday, September 6, on Orange Street near its junction with West Street, as he was making his way home.
The police report of Saturday, September 6, 2014, said that "while conducting operations in Taylor's Alley, police had to use justifiable force to subdue 50-year-old Kent Skeet of a Bagdad Street address by shooting him in the left leg after he allegedly attacked a police officer while being searched."
After waiting at court for the entire morning, Skeet appeared before Magistrate Herbert Panton in his courtroom #3 this afternoon, where he was arraigned on charges of assaulting a police officer and wounding.
Skeet pleaded not guilty to the two charges and Magistrate Panton offered him bail in the sum of $500 plus one surety in the same amount. He is to return to court on October 30.
Credible reports to Amandala today, however, suggest that the assault charges against Skeet may have been fabricated.


         Police officer allegedly assaults ex-football striker, shoots him, then charges him with assaulting a police officer and wounding
In an interview with Amandala this morning, before appearing in court, Skeet described what happened.
"I was heading home from Mike's Club and decided to walk down the West Canal to Orange Street and right at the corner of West Street and Orange Street, there was a policeman along with a young lady," Skeet said.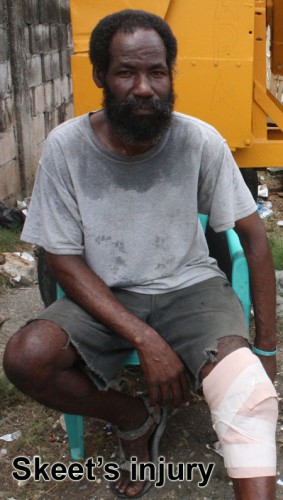 "I was walking middle street, so he just left from where he was standing and grabbed me in my shirt from the back and he hauled me and was taking me toward a young man," Skeet said. "I told him, 'officer, 'leggo my shirt.'"
"When he let go of my shirt, the man just slapped me hard with his hand. He was coming to slap (me) with his hand again, so I just push off the man," Sleet continued, "to defend myself."
"Right away, the man just haul out 'e gun and just shoot me," Skeet explained.
"He shot me in my left leg, but the bullet just gone through and through," said Skeet.
Skeet said that after he was shot, he felt a burning in his leg.
"The police sent for a mobile unit, and one of the officers who was in the vehicle told me to get in to the back", Skeet said.
"They took me to the hospital and I saw a policeman who was guarding someone there. He told me that when they finish attending to me I should let him know, because they will take me back to the police station and charge me," Skeet recalled.
Skeet said that when he was taken back to the police station to be charged, and he saw that he was charged with wounding, he asked a CIB officer why he was charged with wounding, and he said that the officer told him it is because the police officer who charged him had a scratch on his neck.
"I don't know how he got the scratch on his neck," Skeet told us.
Police held a press briefing this afternoon, but when the question of the shooting of Skeet was raised, Police Press Officer Raphael Martinez would only say that it is a standard procedure for the department to investigate any incident in which a police officer had to use his firearm.
Senior Superintendent Edward Broaster, when asked why the police did not hold off charging Skeet until after they have conducted their investigation into the incident, replied that charging someone "is not final end all be it all, so, if our investigation reveals otherwise, then surely, those prosecution will be discontinued."
Broaster added," If the officer is found to be at fault, then he will be dealt with."
Just last week Wednesday, three members of the police's Gang Suppression Unit were accused by West Street resident Kariq Tzul, 23, of brutally beating him until he defecated on himself.
The new GSU Commander, Inspector Mark Flowers, indicated to the media that the case will be thoroughly investigated to see if his GSU officers acted outside of their authority. It is not known, however, whether the officers who are accused of beating Tzul have been made to face any kind of disciplinary measure at all, while the police's investigation into the beating incident is being carried out.