Sports
— 02 September 2017
— by William Ysaguirre
BELIZE CITY, Thurs. Aug. 31, 2017-Eight (8) teams from 4 different associations converged in Belize City over the weekend for the Belize Softball Federation's 2017 National Women's Softball Championship. Two teams each, the champions and sub-champions from tournaments hosted by softball associations in Belize City, Belize Rural, Cayo and Stann Creek, participated in a double-elimination tournament at Rogers Stadium from Friday night through Sunday night, actually ending in the wee hours of Monday morning; and when it was all over, Unitedville's Rebels United, the Cayo sub-champs, emerged as National Softball Champions, after outlasting the Cayo champs, Roaring Creek Grace Kennedy. Roaring Creek had defeated Unitedville, 5-4, in their first meeting on Sunday afternoon. But in a nail-biter on Sunday night, Unitedville clipped Roaring Creek, 9-8; and then proceeded to defeat them again, 9-2, in the championship match, which ended after midnight.
In the award ceremony following the championship game, Belize Rural Softball Association president, Edison Parks handed out team and individual trophies to the champions, 2nd and 3rd place teams.
In the individual awards issued, Indira Spain of champions Unitedville Rebels United walked away with trophies for Most Valuable Player (MVP), Best Batting Average (0.380), and Most Runs Batted In (RBIs, 7); Unitedville pitcher Francine Salazar won awards for Most Wins (5) and Most Strikeouts (19); and Arneek Baptist of Orchid Girls received the award for Most Stolen Bases.
(Information courtesy William Ysaguirre)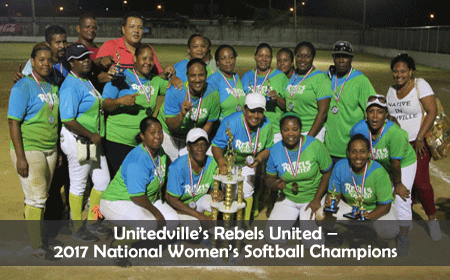 Related Articles
Share
About Author
(0) Readers Comments